As we approach what some are calling "The most wonderful time of the year." (Andy Williams actually, in 1963 and every year after) thoughts turn towards gifts, something that was clearly on Duncan Jones' mind when he tweeted recently…
Alright you early shoppers!
Christmas is coming and let's not pretend you are not already nervous about what to get your bestest buddy!
I'm gonna make it easy on you…
It's THIS!
Do it! Doooo iiiit!
"THIS!" being Duncan's debut graphic novel in collaboration with Alex de Campi and a dream rosta of comic book artists MADI: Once Upon A Time In The Future.
MADI (if you did not already know) is a 260-page road trip graphic novel set in the near future, by film director Duncan Jones (MOON, SOURCE CODE, WARCRAFT, MUTE) and writer Alex de Campi (BAD KARMA, BLADE RUNNER), and drawn by some of comics' most exciting artists including Glenn Fabry, Simon Bisley, Duncan Fegredo and Pia Guerra. Each artist tackles a 8-30 page section of the story, bringing to life one location.
MADI is the third and final story in the 'Mooniverse,' (MOON, MUTE, MADI) an anthology of independent stories that take place in a shared future.
The 'Mooniverse' Trilogy started with Duncan's multi award winning feature film debut MOON in 2009, and continued with the exclusive to Netflix feature set in near future Berlin MUTE in 2018 in which we catch a glimpse of how things work out for Sam Bell after the end of MOON, so the series give us stories set in that shared Universe rather than direct sequels. If you're keen to spend more time in the Mooniverse, have a thirst for incredible art and storytelling, MADI is for you!
MADI is available from all good bookshops or directly from Z2 Comics where you can pick it up in three marvellous variations; Standard Edition (Softcover), Standard Edition, and Deluxe Edition. The first 17 pages are available to download and read now, for free!
Now, about that Deluxe Edition… it appears a certain Mr. Jones has come over all Santa and has a burning desire to send a Deluxe edition of MADI to… maybe YOU! So, we're gonna have a wee competition should you fancy winning one of the most beautiful graphic novels you ever did see.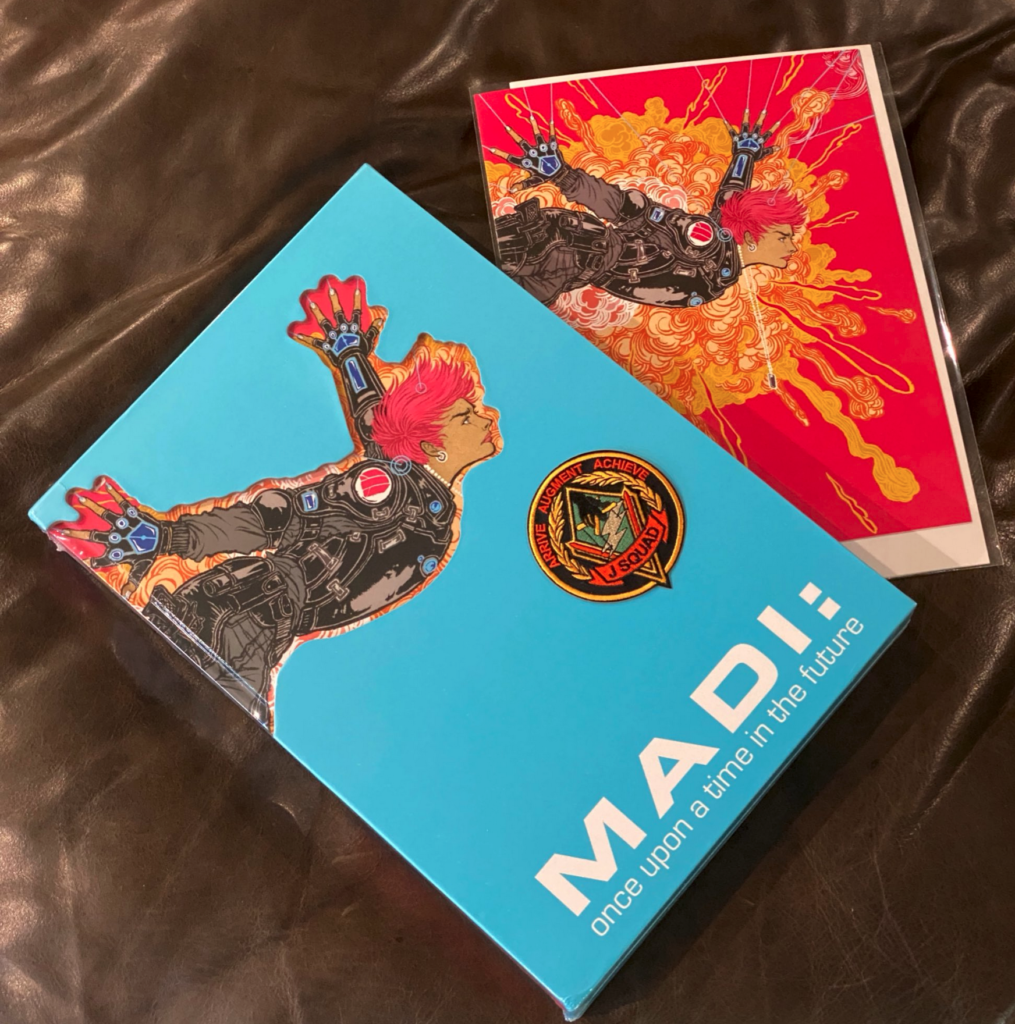 To win a Deluxe Edition of MADI from Duncan Jones himself tell us who created the stunning cover artwork for the Standard Edition and Deluxe Edition slipcase.
Email your answer to: unklerupert@manmademovies.co.uk with subject line MADI CHRIMBO!
Please get your answers in by 21:00 (GMT) on Sunday 28th November 2021.
Entries welcome from friends anywhere in the whole wide world. Good luck! 🙂